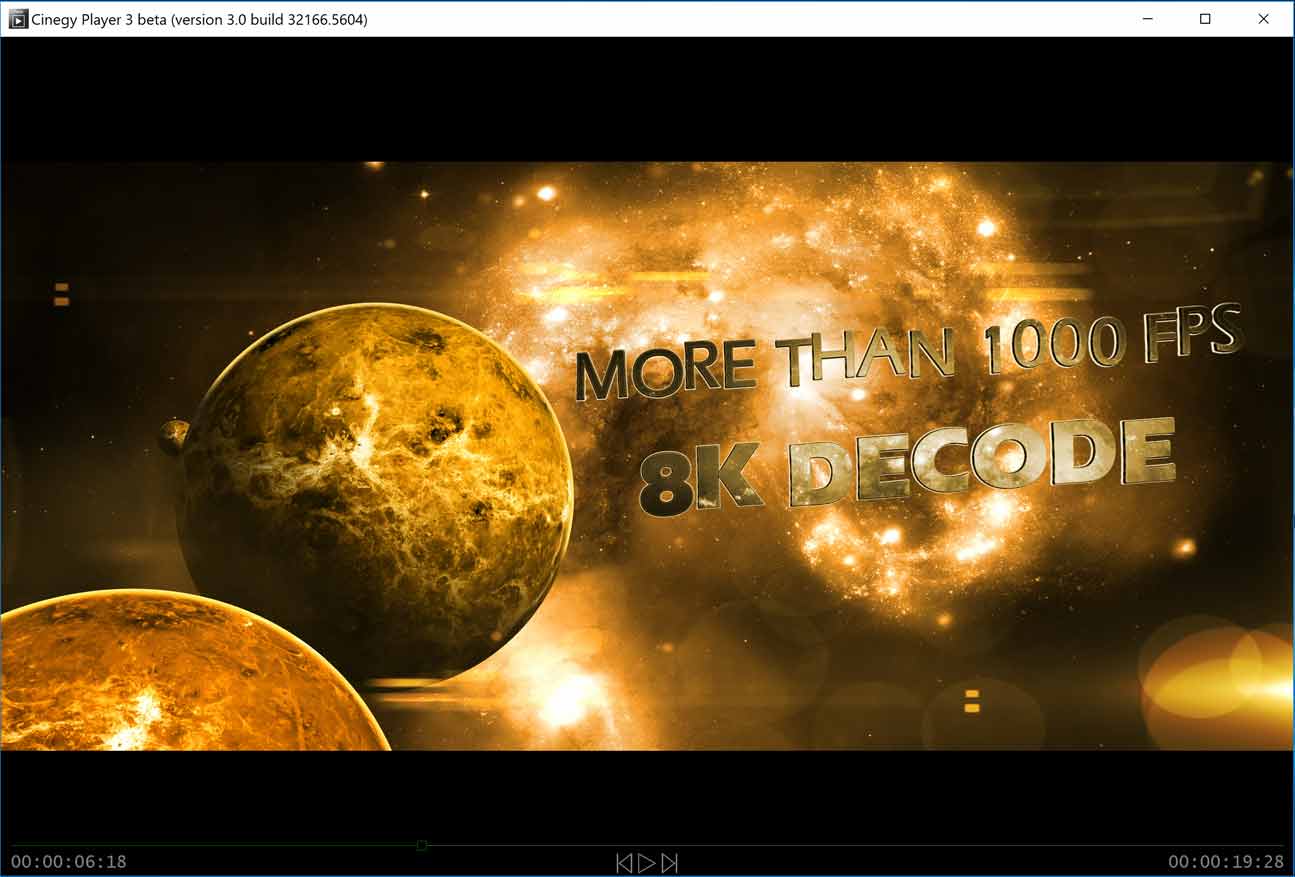 Cinegy Player 3
The Player for your Daniel2 video files and all other professional video formats.
HD, 4K, 8K, 10bit
10 bit output using Nvidia graphics cards - playing Daniel2 with GPU decoding and also Sony XAVC, Apple ProRes and many other professional file formats.

Color Correction
3D LUT based realtime color correction even in 8K @ 60fps. Import LUTs from populat packages such as BMD's Resolve.
Play & Zoom & Pan
Of course you can play 8K files and see them on UHD or HD monitors and zoom and pan in and out of hte picture while playing at full frame rate - or slower or faster.

Realtime Effects
Change brightness, contrast, color values, or apply other simple effects during realtime playback.
Cinegy Player 3 Features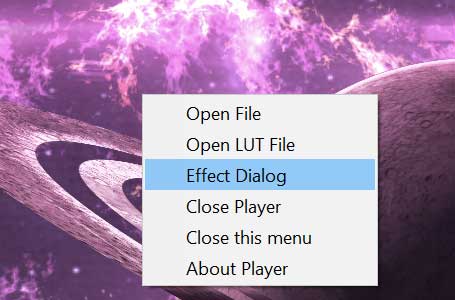 One of the main features of Cinegy Player 3 is that it plays Daniel2 video files with Nvidia GPU acceleration, so even a simple Nvidia GTX1060 equipped PC or notebook can play 8K files. But Cinegy Player 3 can do so much more ...
Like previous Cinegy Player versions it can play most commonly used broadcast video formats and now also allows output of 10 bit video using an ordinary Nvidia Geforce or Quadro graphics cards. It can perform zoom and pan while playback, can apply effects in realtime as well as apply complex 3D LUTs exported e.g. from BlackMagicDesign's Resolve.
Playback of files that are still being recorded / written is another strength of Cinegy Player 3.
The user interface of Cinegy Player 3 is much less cluttered. A number of features we had in the previous versions, like the MXF analyzer, have been removed. Others features, e.g. the playback of IP streams, will be brought back in future builds.
Cinegy Player 3 Realtime Effects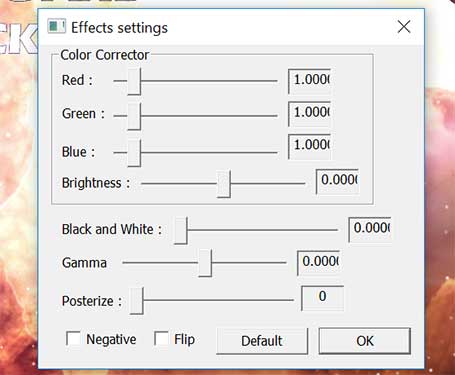 The realtime effect panels is just one right-click away. Adjust color, brightness, gamma, posterize, negate or flip the image.
This is not by any means a professional color correction but a quick fixer and an illustration of GPU compute power.
For playback with professional color correction you can use 3D LUTs prepared in tools such BlackMagicDesign's Resolve and exported as .cube files which then can be loaded straight into Cinegy Player 3 (right click in player window -> Open LUT File). Pressing the "u" key on the keyboard toggles the LUT on/off.
3D LUT processing is compute intensive. For realtime 60fps 8K playback with 3D LUTs enabled a Nvidia GTX1080 or better is required. For HD or UHD/4K files less powerful cards may be sufficient. To see whether your card can cope enable the Cinegy Player 3 status info display.
Cinegy Player Status Info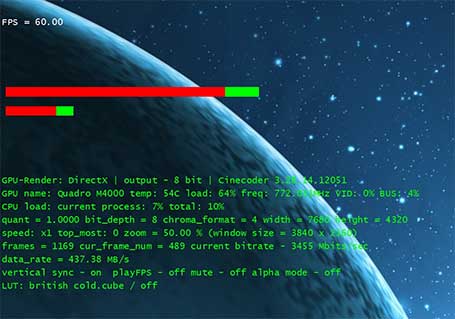 To see how your Cinegy Player 3 is doing there are a number of keyboard shortcuts that will toggle the display of additional status information. Pressing the "s" key will display the current frame rate the player is playing at. Pressing "a" will toggle the display of a whole load of additional information, such as display bit depth, codec version, GPU name, temperature, load, frequency, hw video encoder and bus load, CPU load of app and the machine as a whole, quantization level, bit depth and color format of the source file, resolution of the source file, zoom factor and windows size, current and total number of frames, bit rate and data rate, vertical sync on/off, forced file indicated fps (playFPS) on/off, mute on/off, alpha on/off, and finally LUT loaded.
All of these flags can be toggled by keyboard shortcut - see total list of keyboard shortcuts below. Cinegy Player 3 uses the standard "J", "K", "L" and space bar keys for transport control with the addition of the left and right cursor keys to do single frame reverse or forward stepping.
Cinegy Player 3 Specifications
• Windows 10 style media player for Daniel2 video files and most professional video formats
• Requires Nvidia Maxwell or Pascal GPU and Windows 10 64bit
• Native 8K output or scaled output to 4K, full HD or smaller display sizes - 8GB GPU RAM required for 8K playback
• Zoom-in, zoom-out, scan & pan while playing or while paused
• JKL controls, single stepping, scrubbing
• PCM 16 and 24 bit audio playback
• Technical info and status display
• Full screen or window playback
• Multiple player can run simultaneously
• Playback of files that are still being recorded / written

Cinegy Player 3 File Formats & Keyboard Commands
Video
Daniel2 (MXF & ES)
MPEG-1, MPEG-2 , IMX/D10
H.264/AVC, AVC-Intra
Sony XDCAM / HD / HD422
Sony XAVC
Apple ProRes
DV25, DV50, DVCPro100
Audio
MPEG-1 Level 1-3
MP3
AAC
AES-3
PCM
Ogg-Vorbis
Dolby Digital (optional)
Container
AVI
MPEG-2 ES/ PS / TS
MXF OP-Atom, OP1A, AS-03, AS-11/DPP
XDCAM HD 422, XDCAM EX
AVCHD
MP4
Apple Quicktime
Keyboard Shortcuts
'c' - change window size to current screen 'f' - change window size to full screen
'+' / '-' - zoom (+/- 10%)
'1' / '2' / '3' / '4' - zoom (100%, 200%, 300%, 400%)
'0' - change size frame to window size 'right' / 'left' - show next/prev frame (+/- 1 frame)
'J' / 'K' / 'L' - change direction video or pause
'p' / 'space' - pause/play
's' - on/off show fps in the output frame
'a' - on/off other additional information (speed/zoom/bitrate ans etc.)
'q' - on/off show queues ('w' - change mode)
'i' - on/off Cinegy logo
'o' - on/off show main texture
'v' - on/off vertical synchronization
'm' - on/off sound 'd' - on/off decoder
'y' - on/off mode of set manual FPS
ctrl + 'up'/'down'/'right'/'left' - move output frame in window (if zoom > 100%)
'e' - show dialog "Effects settings"
'z' - show on/off info about zoom and window size
'r' - switches between 8 and 10 bit output modes
'u' - on/off LUT support
't' / 'g' - on/off alpha mode
'Alt' + 'Enter' - on/off DirectX fullscreen mode for real 10bit output
'ESC' - exit
The Cinegy Player 3 is public beta. This software is provided as is without any implied guarantees or obligations. It is provided with a time limited license that will expire within 45 days. Within this time-frame a new, final release will become available to replace the beta version. Be sure to re-check this web site or to check your email for any announcements.